Beautifully engraved SCARCE uncancalled stock certificate from the Marconi Wireless Telegraph Company of Canada issued in 1905. This historic document has an ornate border around it with a vignette of terrestrial globes with towers in the backdrop. This item is hand signed by the Company's V. President and Secretary and is over 113 years old. The certificate is in VF condition. 2 Vertical folds.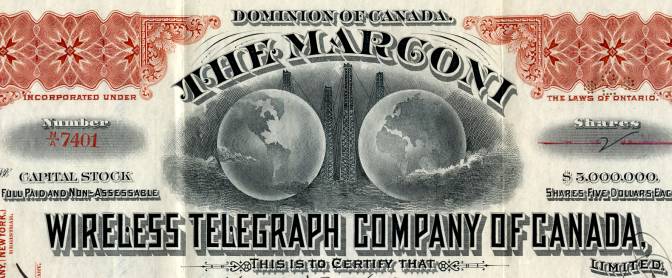 Certificate Vignette
In 1903 Marconi founded the Marconi's Wireless Telegraph Company of Canada which was renamed as the Canadian Marconi Company in 1925. The radio business of the Canadian Marconi Company is known as Ultra Electronics TCS since 2002 and its avionic activities as CMC Electronics, owned by Esterline since 2007.
---
THE MARCONI CENTENARY The history The first wireless signal to be sent across the Atlantic was transmitted 100 years ago on 12 December 1901 by Guglielmo Marconi, the great developer of wireless. It was sent from Poldhu in Cornwall to Signal Hill in St. John's, Newfoundland. As soon as the decision had been taken in July 1900 to transmit a wireless signal across the Atlantic, Marconi acquired a site on the cliff top at Poldhu, near the western tip of Cornwall, for his transmission station in England. Building work began in October 1900 under the direction of Dr John Ambrose Fleming. No time was lost. The power plant was built and ready for testing by early February 1901. By the middle of that month, Marconi's assistant, George Kemp, also started work on erecting the huge masts that were to support the aerial. This construction consisted of 20 four-piece 200 feet wooden masts set out in a circle with a diameter of 200 feet. In September 1901, when the masts were nearly completed, a storm destroyed the circle. Marconi and his men were faced with a scene of devastation. His resilience and determination would not allow defeat. Within seven days Kemp had erected a temporary aerial, supported by two masts, which proved to work successfully. Meanwhile, Marconi decided that rather than make his proposed transmission to Cape Cod in the USA he would aim for the nearest landfall: in Newfoundland. On 26 November 1901, Marconi set sail for Newfoundland and arrived on 6 December. The Government there was helpful in every way and gave him a site at Signal Hill, St. John's. Here within a few days he was able to set up an aerial supported by a kite. Then on 12 December, the great event happened: both Marconi and Kemp heard a wireless signal transmitted from Poldhu. It was the Morse Code letter "S" (dot, dot, dot). When Marconi announced the news, it was received sceptically by the English press. But the news was received quite differently on the other side of the Atlantic. St. John's Municipal Council recorded Marconi's success in its minutes, and it was given wide publicity in the Canadian papers and in New York. A cable company, the Anglo-American Telegraph Company, concerned by Marconi's transmissions, threatened to take legal action to protect their monopoly. As a result, Marconi felt he could receive no more wireless signals for the time being in Newfoundland. Marconi and Kemp travelled on to Ottawa and arrived there on 30 December, where there followed interviews, official receptions and entertainment. All agreed that Marconi's effort to send wireless signals across the Atlantic should be supported in every possible way. The Government of Canada offered a free site and undertook to contribute $80,000 to the cost of building and equipping a wireless station. A draft agreement was entered into before Marconi returned to England via New York in January 1902. On 22 February 1902, Marconi set off again for New York on board the "SS Philadelphia". This had specially constructed aerials on its masts and Marconi was able to receive wireless signals up to a distance of 2099 miles from Poldhu. The receipt of these signals, witnessed by the Captain, confirmed Marconi's claim that wireless signals could be sent across the Atlantic to Newfoundland, and even further. He went to Ottawa where the agreement with his company was ratified. Towards the end of 1902, Marconi had a permanent station on the east coast of Canada at Glace Bay and the Marconi Wireless Telegraph Company of Canada Ltd was formed in 1903. By 1912, the Marconi Wireless Telegraph Company of Canada Ltd owned or controlled no less than 29 wireless stations in Canada and Newfoundland. History from Encyberpedia and
OldCompany.com
(old stock certificate research service)