Beautifully engraved certificate from the New York Auto-Telegraph Co. issued in 1885. This historic document was printed by Hosford & Sons Engravers and has an ornate border around it This historic document has an ornate border around it with 3 vignettes. One is of Mercury over the globe telegraphing a message with sparks in the sky over the clouds, the second is of two women in front of a harbor scene and the third is of an old sailor and indian. This item is signed on the front and back by Alonzo B. Cornell and is over 136 years old.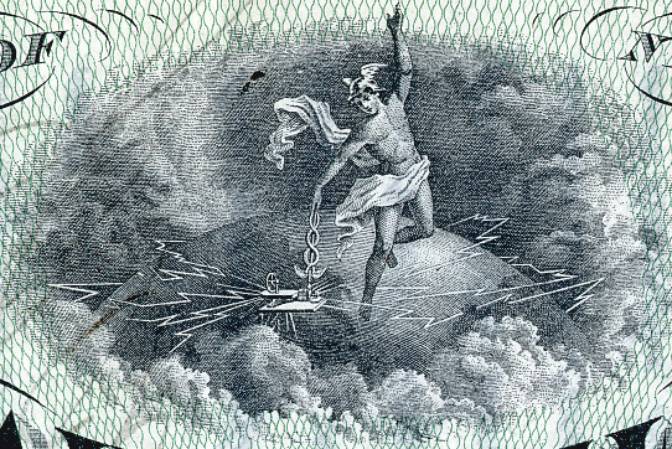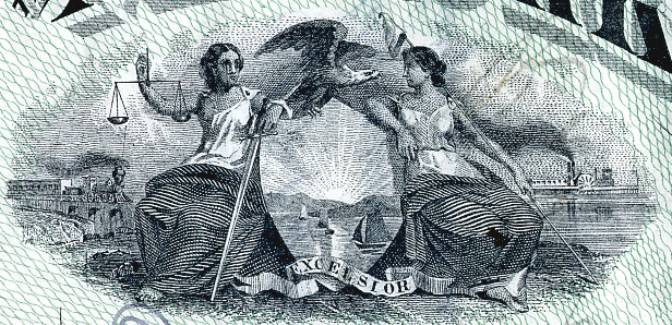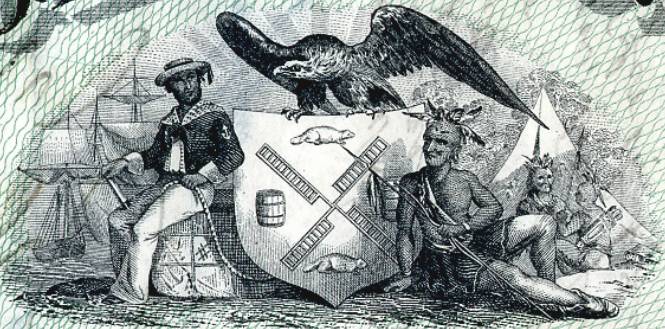 Certificate Vignette
Cornell, Alonzo B. 1832-1904, American businessman and politician, b. Ithaca, N.Y. Cornell was a director (1868-69) and vice president (1870-76) of the Western Union Telegraph Company, founded by his father, Ezra Cornell (See Bio below). A supporter of Senator Roscoe Conkling, he was surveyor of customs (1869-73) at the port of New York, chairman (1870-78) of the Republican state central committee, and speaker (1873) of the New York assembly. President Grant, just before leaving office, appointed him naval officer in the New York customhouse. President Hayes, in an attempt to wrest control of the port of New York customhouse from the Conkling machine, brought pressure upon him to resign because of his official party connection. Cornell refused, and though strongly supported by Conkling, he and Chester A. Arthur, the collector of the port of New York, were removed in 1878. Cornell was promptly chosen governor of New York for the term 1880-83. He modernized the state finances, made good appointments, and vetoed much extravagant legislation. By not taking sides in the patronage fight between President Garfield and Conkling in 1881, he contributed to Conkling's defeat in the legislature and was himself defeated for renomination as governor. He wrote a biography of his father (1884) Cornell, Ezra 1807-74, American financier and founder of Cornell University, b. Westchester Landing, N.Y. Cornell, who began life as a laborer, was of an ingenious mechanical bent and had a shrewd business mind. He aided in constructing (1844) the telegraph line between Baltimore and Washington, D.C., over which Samuel F. B. Morse sent the first test message. Having devised the method of stringing wires on poles, he entered into line construction in the East and the Midwest. He was founder, director, and for a time the largest stockholder of the Western Union Telegraph Company, which was formed in 1855 to end cutthroat competition in the field. His interest in agricultural education led to his association in the New York senate with Andrew Dickson White, and together they mapped and secured legislation for founding (1865) Cornell Univ., with a charter embracing many of Cornell's ideas. He made many gifts to the university, including an initial $500,000, and was responsible for the successful financial returns on the university's federal land grant.