Beautiful certificate from the Savage Arms Corporation issued no later than 1951. This historic document was printed by American Bank Note Company and has an ornate border around it with a vignette of allegorical figures. This item has the printed signatures of the Company's President and Secretary and is over 67 years old.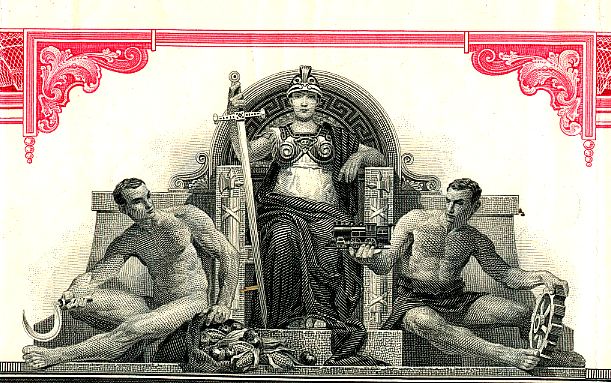 Certificate Vignette
The Savage Arms Company was founded in 1894 by Arthur Savage in Utica, New York. The company may be best-known for the Model 99 hammerless lever action rifle, no longer in production, and the very popular .300 Savage sporting cartridge, which was the parent stock during a WW-II development contract of the eventual civilian .308 Winchester sporting cartridge, later adopted in the 1950s as the 7.62mm NATO cartridge. Savage Arms merged with Driggs-Seabury Ordnance during World War I. In 1920 Savage bought Stevens Arms. In 1939, Savage introduced the Model 24, a rare U.S. double rifle (drilling). For all its rarity in the U.S. market, it sold over a million copies. The company was run by a variety of owners from the 1960s to the 1980s. Savage eventually ran into financial trouble in 1988 and filed for bankruptcy protection. Production was then reduced to the the basic Model 110 bolt action rifle. A turn-around began in 1995 with the company returning to private ownership, lead by Ronald Coburn. Today the company produces a wide variety of firearms and has a reputation for producing accurate, inexpensive rifles. Some of their recent success can be attributed to their development of a factory-installed, safe, user-adjustable trigger, called the AccuTrigger. Savage maintains its headquarters in Westfield, Massachusetts in the United States. The company also manufactures .22LR rimfire rifles in Canada and manufactures its wood stocks at a factory in Connecticut. According to company officials, the Canadian division of Savage Arms exports 97 percent of its rifles, mostly to the US. History from Wikipedia and OldCompanyResearch.com.