Beautiful certificate from the United States Hotel Company issued in 1883. This historic document was printed by the Burke & Mcfetridge Company and has an ornate border around it with a vignette of the Lawn View of the Hotel. This item has the original signatures of the Company's President, Henry A. B. Brown and Treasurer, and is over 129 years old. Small ink burn.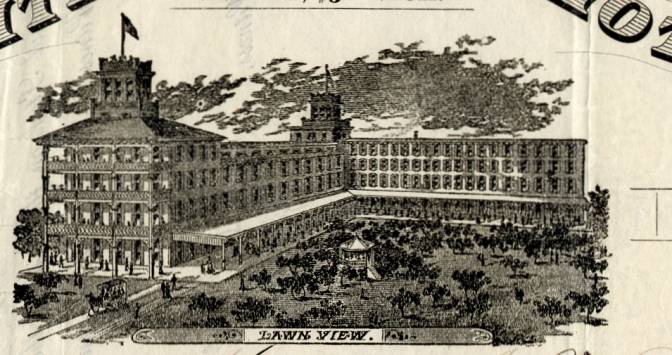 Certificate Vignette
The United States Hotel was originaly built in 1854. It was a sprawling, four-story structure built to house 2,000 guests. The United States Hotel took up a full city block. It opened while it was still under construction, with only one wing standing, and even that wasn't completed. But by year's end, when it was fully constructed, the United States Hotel was not only the first hotel in Atlantic City but also the largest in the nation. Its rooms totaled more than 600, and its grounds covered some 14 acres.