Group of 6 receipts from the Washington Lodge of Freemasons, Roxbury, Massachusetts dated in 1802. This item is over 206 years old. Signatures include, Jacob White, Charles Durant, Noah Harris, John Bowen, and Benjamin Marshall.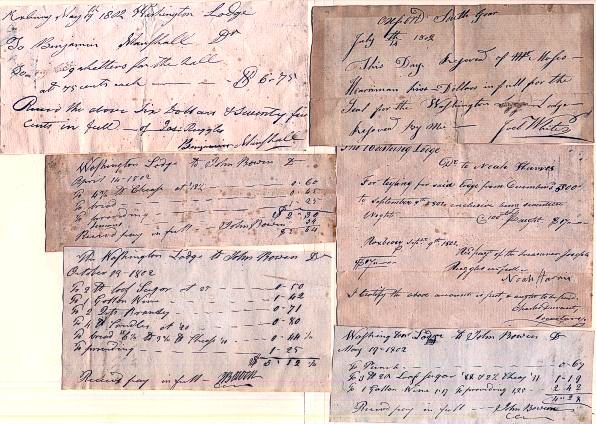 Certificate Vignette
The Washington Lodge of Freemasons, the thirteenth lodge chartered in Massachusetts, was instituted March 14, 1796, and Worshipful Master Ebenezer Seaver, Senior Deacon Simeon Pratt, and Junior Deacon John Ward were publicly installed by the Grand Master, Paul Revere, October 16. Its founders were Simeon Pratt, John Ward, Moses Harriman, Ebenezer Seaver, Timothy Healy, Joseph Ruggles, Stephen Davis, and James Howe. Among its past-masters were Simeon'Pratt, Nathaniel Ruggles, Nathaniel S. Prentiss, Samuel Barry, Samuel J. Gardiner, John Howe, Charles Wild, and George Frost.